Your safety is our top priority at all times. Bankstown Coaches are committed to maintaining and updating safety management procedures including drug and alcohol testing of all drivers, operations, and fleet & workshop staff.
Bankstown Coaches spare no cost or effort when it comes to safety. We will continue to implement and manage the highest safety management systems. Many factors contribute in making us safe and reliable. These include: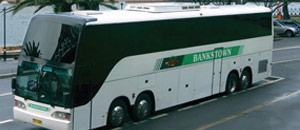 Drug and Alcohol Testing
All drivers, operational, fleet, workshop and engineering staff are tested for the presence of drugs and alcohol prior to commencing employment with Bankstown Coaches. All staff are subject to unannounced random drug and alcohol testing.
Accredited and Insured
The operation of all Bankstown Coaches services fall within the requirements of the Transport Regulations and Accreditation for the safe management of drivers and vehicles within each state and territory. We are accredited in terms of the law governing passenger transport in each state and have public liability insurance for all vehicles. Our preferred partners must comply with Bankstown Coaches operating procedures and provide a copy of their public liability insurance, workers compensation & accreditation before we engage their services.
Policy Manuals
Bankstown Coaches maintain written policy manuals to help control and preserve our safety record. These manuals contain safety policies on drug and alcohol programs, driver training and monitoring programs, fleet maintenance, fatigue and health, employment practices and more.
Driver Compliance Regulations
At Bankstown Coaches, we take our customers safety very seriously. We work diligently to ensure vehicles and drivers operate well within the limits prescribed by law. We also ensure that our vehicles are inspected daily before departing from the depot to ensure safe operation and meet federal and state regulations.

Risk Assessment Policy
The operation of all Bankstown Coaches services fall within the requirements of Transport Regulations for Safety Management within all States and Territories. OH&S policies & procedures cover the care of its employees & holds insurances to provide cover for Comprehensive, Third Party Bodily Injury (Green Slip), Worker Compensation and Public Liability.
Vehicles
All vehicles operated by Bankstown Coaches are roadworthy and meet the Government's standards for each State and Territory. As well as being subjected to daily checks, all vehicles undergo bi-annual mechanical inspections by Roads & Traffic Authorities and Motor Vehicle Examiners. Vehicles are fitted with seatbelts and comply with all Government safety Australian Design Rules.

Drivers
Drivers employed by Bankstown Coaches are suitably licensed by roads and traffic authorities and are holders of authorities to drive Public Passenger Vehicles issued by each state or territory government. Driver Authorities attest that drivers have been subjected to checks to confirm that they are of good repute and in all other respects fit and proper persons with sufficient responsibility and aptitude to drive Public Passenger Vehicles. Bankstown Coaches drivers are regularly checked in terms of National, State and Territories and Bankstown Coaches fatigue management regimes.